Hey y'all! I've got an announcement to make, and I'm absolutely, positively, so very excited about it.
As you know, I'm very girly. I love all things fashionable. So, naturally, I tend to make friends with girls who are the same way!
Emilyann
, Josie,
Lizzie
,
Amanda
,
Lauren
,
Valentine
, and I have created a new blog. It's called
The Dressing Room Doo
r, and it's a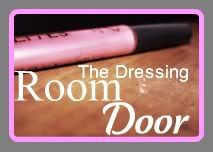 collaborative effort, where we post whenever we want and about whatever happens to strike our fashion fancy.
And what better way to really kick off our new blog than with a giveaway? I've been wanting to do one on this blog for a while, and the timing was perfect because the product I wanted to give away didn't arrive until after we started our blog. So now we have the perfect way to welcome new readers!
If you'd like to enter this great giveaway, click the button right there to head on over!