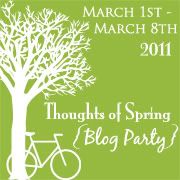 I'm joining a little blog party, so if you're new here,
welcome!
My name is Caroline. If you want to know a little bit about me, I live in Rome, Italy, and you can click that little bar up there with information about me. I'm 16 years old and a junior in high school.
Here's a little more about me:
How would people describe your personality? (If they could only use ONE word.) Are they right?
One word? Goofy. The end.
What celebrity/celebrities would create a "Star-Struck" feeling if you saw them in real life?
My favorite blogger is The Pioneer Woman. Without question.
What is your comfort food/drink?
My comfort food is pasta. Just plain noodles with butter, parmesan, and sea salt, or olive oil and sea salt. My comfort drink is a Venti No Classic Breve Iced Coffee at Starbucks, which is just fancy terminology for "a ginormous cold coffee with half and half and no sweetener."
Be brave – tell us something very random and weird about yourself.
Well, you can read the "About the Author" tab to hear some really weird things. Only thing I can think of now is that I have this strange thing about sleeves on my wrists. Unless it is positively arctic outside, I push my sleeves up past my elbows. I don't like them on my wrists; it makes me uncomfortable.
Do you have a strong desire to do something you've never done? What is it?
Yes, I would very much like to go on some sort of crazy adventure, full of intrigue and suspense, like in the movies. A safari in the wild rain forests, perhaps? We shall see. :D
Movies: Action, Drama, Romantic Comedy, Documentary, Comedy? What are your favorite genres?
Romantic comedy, comedy, and action. And in regards to action, it can't be too intense. For instance, I can watch Transformers, but I can't stomach something that's too violent unless I have my daddy's shoulder to hide my face in.
Books: Fiction, Non-Fiction, Romance, Biographies, True Stories, Self-Help, Devotional/Study?
I like fiction, especially historical fiction. I've read so many historical fiction books. I do like fantasy, like The Chronicles of Narnia, but I don't like ALL fantasy. For instance, Lord of the Rings is not at all my cup of tea.
What are your favorite types of reading material?
I like my Kindle and just any entertaining historical fiction books. But I love to read fashion magazines. Our British friend gives me her Grazia magazines when she's through with them. I just like to look at the ads to get hair/makeup inspiration.
Music: Funk, Rock, Country, Jazz, Classical, Film Score, Blues, Classic Rock, Crooner, Alternative, Heavy Metal, Techno? What are your favorite types?
Hmm. This is hard! I like most music... it's probably easier to say what I don't like. I

don't

like Heavy Metal and Techno. Everything else I enjoy.
If you inherited a million dollars, what is the first thing you would do with your money?
I'd buy my mama and daddy a cozy house by the water.
Name one weakness of yours (confession is good for the soul).
I would say chocolate, but that's just horrendously cliche. I'd say a weakness of mine is makeup. If I see something I like at the store, it's so hard not to buy it.
If you could live anywhere at all (and take all your loved ones with you), where would you go?
I would live in Hawaii again! I grew up there and I miss it a lot.
Strange Talent? Can you juggle basketballs, put your legs behind your head or perform some other strange feat?
Well, I used to be able to lay on my stomach and touch the tip of my nose with my toes by bending them back like that, but I don't know if I could do it anymore. I was born very flexible but I'm a little worried I've wasted it.
I'm not good at limbo anymore, either. How low can I go? Not very.
What's something you consider yourself to be good at? (Don't worry, it's not bragging, it's acknowledging a God given gift).
This makes me uncomfortable. *twitch*
I guess... I can sing and act. But I can't dance, so Broadway is sort of out of the question. Two left feet right here.
What is one of your favorite things to catch a whiff of?
I love it when my mama browns ground beef for spaghetti or soup. She puts a bit of onion or something and some oil I think (I'm very perceptive) and it just smells so good as it browns.
When you leave a social gathering, do you wish: You would have talked more or You would have talked less?
Oh, I almost always wish I had talked less. I have trouble with the whole hushing thing.
If money wasn't a factor, what stores would you shop in?
Mac (not computers), Lush, Banana Republic, still Target, Nordstrom's, Ulta, and Sephora.
What is your greatest fear or strange phobia?
Apiphobia.
What is your greatest accomplishment?
Not losing my mind completely yet?
What are your favorite animals?
Ooh! Ooh! I know this one! I like dolphins, yorkies, little monkeys, tigers, and lemurs.
Are you a hopeless romantic?
Utterly.
What movie or book character can you most relate to?
In Jane Austen's Northanger Abbey, I completely relate to Catherine. We are the same person.
Thanks for stopping by! Y'all come back now, ya hear?